Real estate SEO is easy to ignore, but something your team really needs to get right.
Why? Today, 90% of home buyers start their search online, and nearly 100% will use the internet at some point before they close.
The brokerages and MLSs that are mastering real estate SEO are
the ones getting all the leads—and growing their bottom lines.
You might have the best website in your market (or even the whole world), but it'll be useless if no one can find it. That's where SEO comes in.
Book Your Personal Tour of Constellation1 Websites
What's the first thing most buyers do when they're ready to search for a home? They open their favorite search engine and type "homes for sale in…" If your website is designed with search engine optimization (SEO) in mind, it'll be likelier to appear first, earning you organic leads and valuable business.
Below, we discuss the key elements of real estate SEO so you can take the first steps to create an SEO-friendly website or perfect the website you already have. Let's dive in!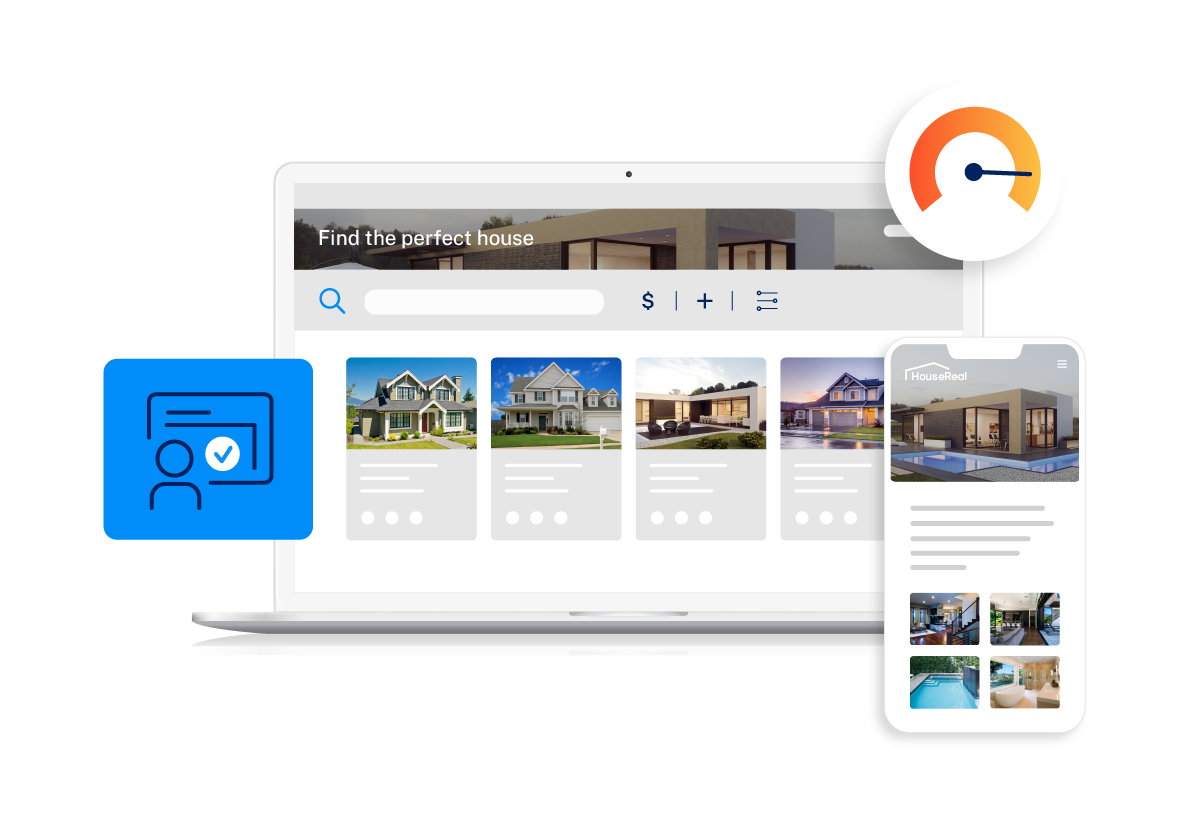 What is SEO?
Search engine optimization, commonly referred to as SEO, is the process of optimizing your site for search engines like Google and Bing. Search engines use complex (and closely guarded) algorithms to determine whether a site is useful to consumers. The term "SEO" encompasses everything you can do to help search engines find your website and convince them to show it as high up in the search results as possible (ideally, somewhere on the first page).
Want to skip ahead and get right to optimizing? Jump to our comprehensive but by no means exhaustive list of the things you can start working on right now.
At the end of the day, SEO is about trust: search engines need to trust your website to provide quality information to searchers looking for real estate information. At the same time, searchers themselves attach a level of trust to websites that appear high in search engine results pages.
Why Is SEO Important For My Real Estate Business?
As we mentioned earlier, almost all home buyers and sellers today start their real estate journeys online. Sellers use the internet to find an agent to help them sell their home, while buyers look at their very first listings after searching for homes on Google or Bing.
You want these consumers to find you, not your competitors. The ultimate goal of an SEO strategy is to be the very first result when someone is searching for help buying or selling property.
When you invest in SEO and implement SEO strategies correctly, search engines will send free traffic to your website for your target keywords. If you're consistent, you can get the right traffic to boost your business and convert leads to customers.
Effective SEO helps your brokerage in three main ways:
1. Increased traffic
SEO is the key tool for driving your target audience to your website to find answers to their questions, like how to buy a house in your area. When you rank higher, you'll naturally get more clicks, snowballing into more and more visitors viewing your listings.
2. Quality Leads
Once your target audience is on your website, if you provide the information they're looking for while standing out (in a good way) from the competition, they are likelier to go a step further and contact you. When it comes to generating high-quality organic leads, there are few strategies that will give you as high a return on investment as search engine optimization. With a good, well-implemented strategy, your funnel will always be full. SEO can generate an enormous amount of top-of-funnel leads while also helping you nurture the leads you already have.
3. Business Growth
Higher organic traffic means guaranteed growth at a low cost for your brokerage. It's one of the best things about having a website with a dedicated SEO strategy! Paid campaigns are good, but organic traffic is gold.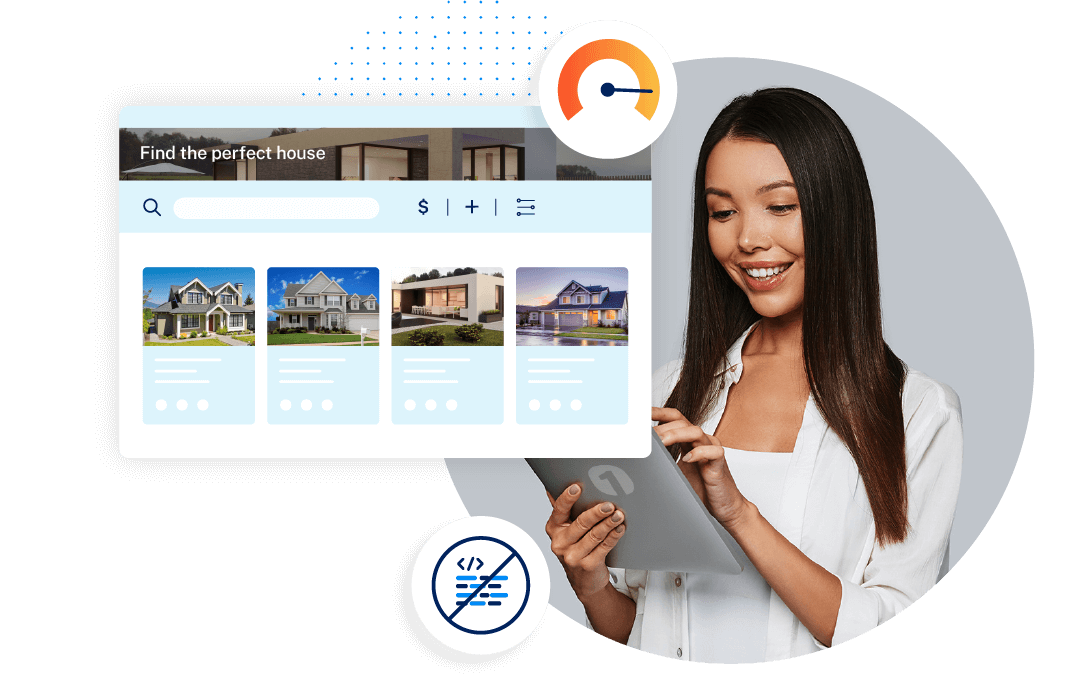 How Do You Create an SEO-Optimized Website?
Creating a great SEO-friendly website you can turn into a lead-gen machine is like building a house: it's important to start with a solid foundation, then build your way to the top.
Need help building your own SEO-friendly website?
The Building Blocks of an SEO-Friendly Website
Design and Code
The first step to create an optimized website starts at the most basic level: the design (your site's information architecture, structure, and page hierarchy) and the actual computer code used to make it.
Websites must be designed and coded with SEO in mind and every component tailored to ensure optimal search engine performance. This is why working with an expert developer is so important. Key components include:
HTML and CSS markups
Canonical text
Factors affecting page weight and load time
Crawl paths
Linking structures
And more
What About Mobile Responsiveness?
Another important aspect you can't ignore when creating your website is responsive design, so it displays beautifully no matter what kind of device your user is using, from an old iPhone to a TV-sized monitor.
Customization
The second step to create an optimized website is customization. The best builders in the world can pour the finest foundation and frame a lovely house for you, but it won't start to feel like home until you add your own finishings and flavor. The same is true of your website, and that's where customization comes in.
One important metric search engine algorithms use to determine whether your website is valuable and useful is uniqueness, the degree to which your site resembles other websites. For example, if you're trying to sell houses in Houston, but your homepage uses a generic stock photo and makes zero mentions of Houston or its amenities and instead copies text word-for-word from the Chamber of Commerce website, then Houston, we have a problem.
SEO-friendly websites have a singular, user-friendly look and feel, with unique, high-quality images and delightful words that can't be found on any other site. A little effort to tailor your website will go a long way.
Content
The third important step for creating an optimized site is content. Content includes the actual web copy itself, plus things like customer stories and testimonials, whitepapers, blog posts, videos, podcasts, and more. Quality content is essential for higher search rankings because it helps you:
Rank for valuable keywords your target audience is searching for
Build an authoritative reputation in your market
Signal to search engines your site is informative and useful
Regularly updating your content also tells search engines that you are active and maintaining your website. This means that it is likelier to be current, and therefore more useful, so search engines are likelier to send users there.
How Do You Know If Your Website is SEO Friendly?
Whether you're building a website from scratch or optimizing a website you already have, it's important to check the effectiveness of your SEO building blocks regularly. Search engines update their algorithms from time to time, and these changes, paired with consumer behavior and your competitors' SEO strategies, mean you need to stay agile to keep that top ranking once you get it.
SEO Audits
SEO audits are a series of checks to find issues that might be keeping your site from ranking. They help identify which pages are ranking well and which pages aren't, as well as opportunities for improvement.
SEO audits check search engine behavior, on-page SEO, off-page SEO, user experience, content, and more.
The results of your audit serve as a benchmark for your progress and give you a list of things to improve your site and rank better. If you were starting with auditing your on-page SEO, you might look at and optimizing the following:
Title tags and text
Meta descriptions
Header tags and text
Alt tags
Internal linking structure and placement
Page duplicates
Redirects
Canonical tags
Etc.
And this is just the start!
Need help with your SEO audit?
Content Audits
Like regular SEO audits, content audits can help you identify content that is working well, content that could be improved, and content that can (or should) be repurposed into new content or removed from your site altogether.
When you conduct a content audit, you take a bird's eye view of all the content published on your site to identify the strengths and weaknesses. The goal is to improve your SEO ranking, boost engagement, and ultimately generate and convert more leads. After your audit, you should be able to sort your content into three buckets: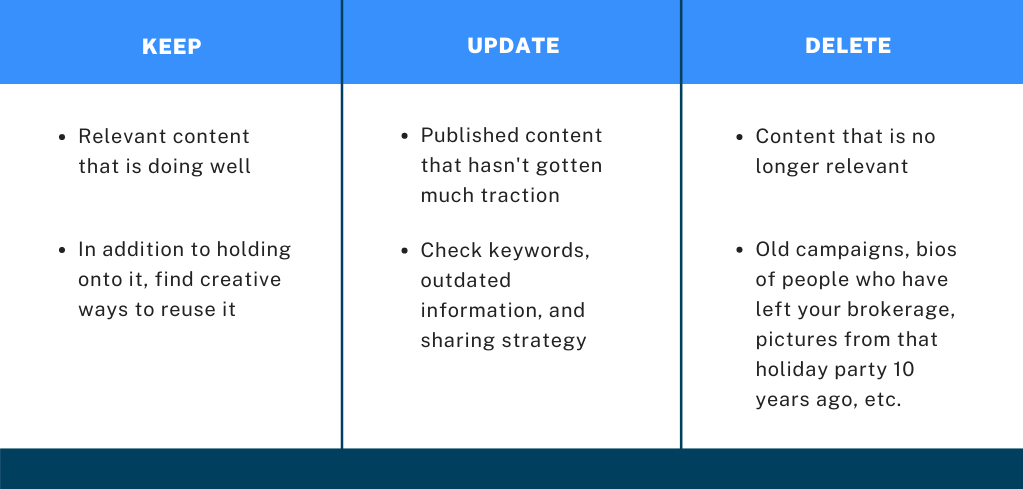 How Do You Optimize Your Website? A Checklist:
Once you've conducted a thorough SEO audit and a content audit, you'll have a valuable roadmap for optimizing your site. Here are a few of the steps you can take to start ranking higher right now:
On-Page SEO
On-page SEO refers to the actions you can take on your own website, from the code that underlies it to the blog posts you write about your market. Your on-page SEO analytics identify changes you can make right away.
Headings
Clean up your headings
Make sure you have just one H1 heading per page.

H2, H3, H4, etc. headings should logically follow the structure of your page (for example, if you have one broad topic, and then several topics/areas that can be nested under it, the broad topic might have an H3 heading and the nested topics would have H4 headings).

Anything that isn't a heading should be tagged as a Paragraph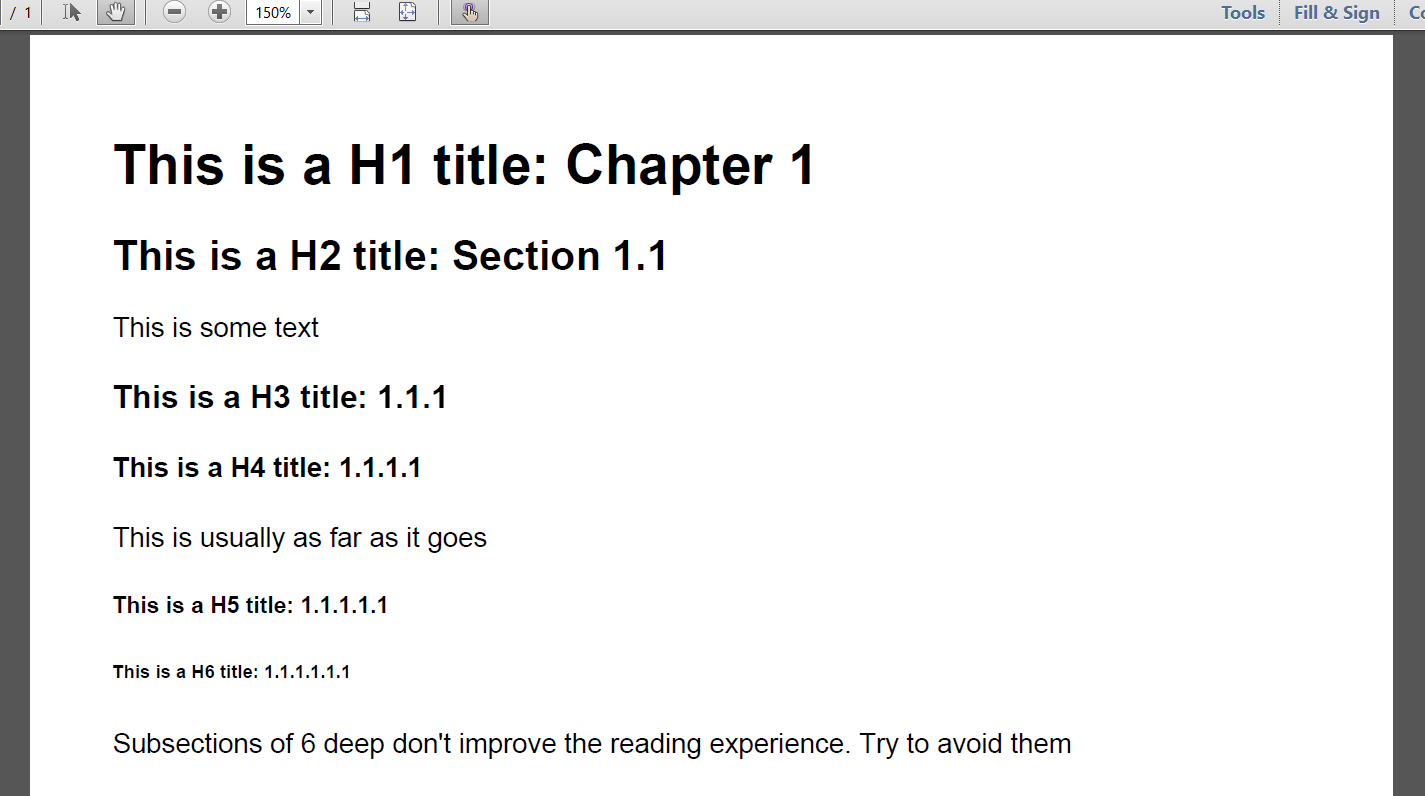 Title Tags (Meta Titles or Meta Title Tags)
Title tags are HTML elements that tell search engines (and searchers) what the title of a web page is. It's also the blurb that appears on the search engine results page. Make sure they are accurate descriptions of each page and include important keywords.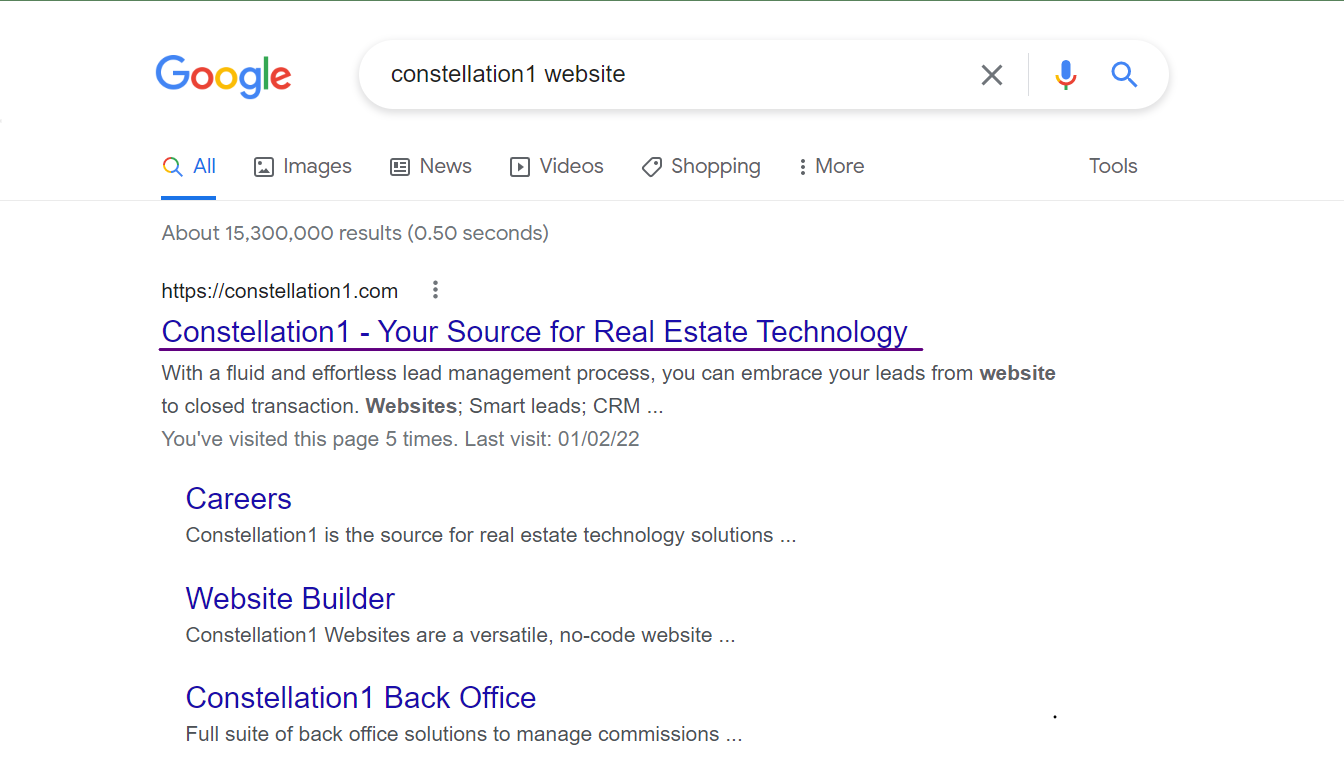 Internal Link Structure
Internal links are any links on your website that take visitors to another page on your website (as opposed to an external site). These links help search engines find, index, and "understand" how the pages on your website fit together. The better search engines understand, the likelier they are to rank you higher.
Use keyword-rich anchor text (the actual underlined text in the link)
Link to and from your most important (or best performing) pages
External Links
External links are the links you incorporate into your content that go to other websites.
Add links to relevant, authoritative websites, as these help search engines determine how useful your page is. High-quality sites tend to link to other high-quality sites.

Use keyword-rich anchor text to helpful websites.

Make sure links open in a new tab or window.

Adding external links can be an effective way to earn backlinks from other sites (see below).
Off-Page SEO
Off-page SEO refers to the actions you can take outside of your website.
Backlinks
A backlink is a link from a third-party website to your website. Backlinks are valuable because they mean another website trusts your site enough to link to it, so search engines should, too. Backlinks are earned over time, and paying for backlinks can have a negative effect, especially if the sites that are linking to yours aren't reputable.
Create quality content and earn organic backlinks from relevant, high-authority websites in your area
Disavow spam links to your site using Google's disavow links tool page.
Technical SEO
Technical SEO refers to actions you can take to optimize the systems powering your website and server(s) to help search engine spiders crawl and index your site more effectively.
Loading Time (Page Speed)
A quick loading time signals to search engines that you provide a good user experience. If users have to wait for information, they'll click away. You want to take steps so that your page loads in 3 seconds or less:
Make sure your website host is using a platform designed for speed.
Compress your images so that they are the highest resolution possible with the lowest file size.
Cache your pages.
Optimize your code.
Compress or bundle files
Dead Links
Dead links are links to pages without content or links that don't actually point to anything.
Remove or correct dead links, so that all links go to the correct place.
Security
Website security is paramount, and users need confidence that they are viewing a page that's safe, especially if they are being asked to provide personal information.
Make sure your website uses HTTPS, which is now the gold standard.
How Do You Analyze Your Website to Gather SEO Data?
Search engine optimization is a crowded space with many players all offering varying levels of service for wildly different price points. If you're just starting out with SEO, you can get started for free with a tool like Google Analytics, which lets you start viewing and analyzing the key metrics mentioned above without paying a dime.
If you work in real estate and you're ready to take your website and SEO to the next level, we can work with you to get results.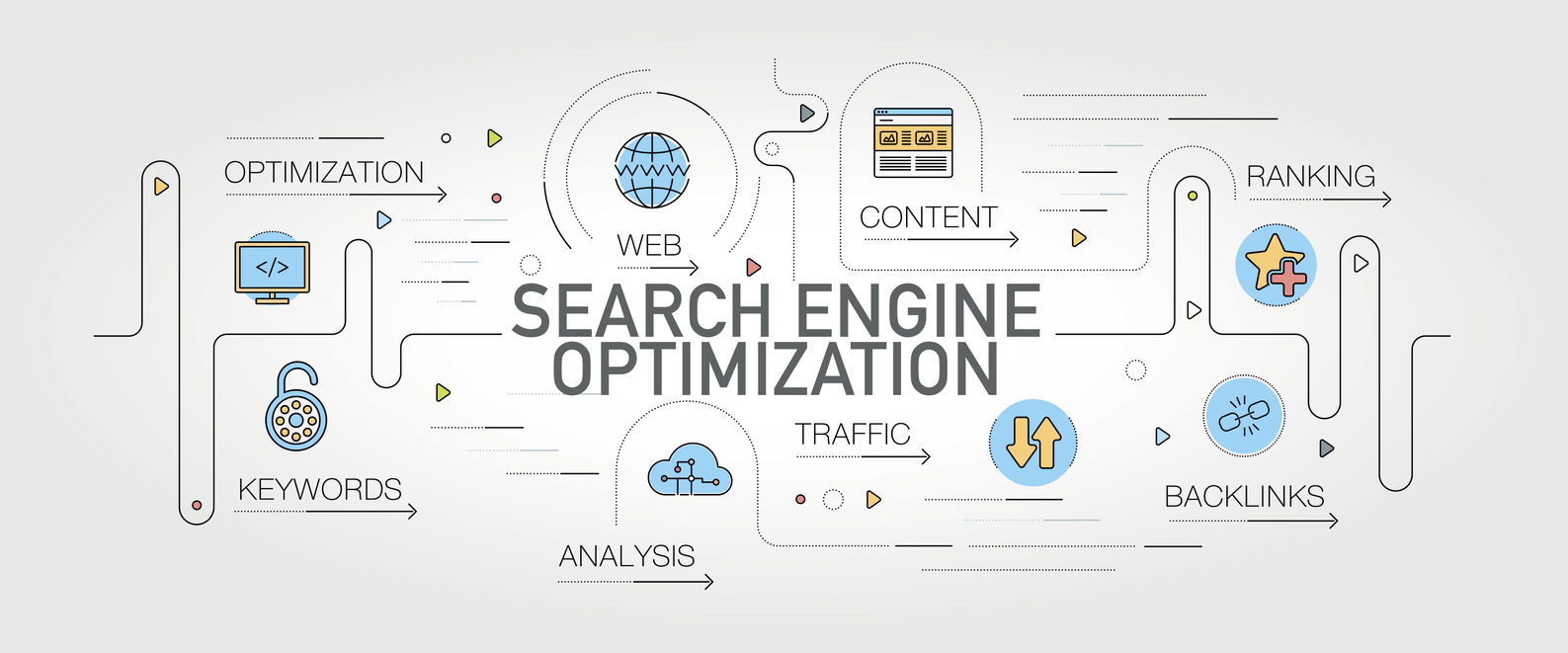 Further Optimize Your Website
If you've mastered the SEO basics above and are looking to go a step further, the following tips are for you:
Keyword Research and Optimization
Keyword research is, in a word, key, because it's how you identify the right terms to bring your target audience to your website. While you can conduct keyword research for free using a variety of tools, investing in a powerful keyword research tool will help you find the right keywords for you, compare your keywords to your competitors, and even analyze your keyword use on your own pages.
Compelling, High-Quality Content
We mentioned content above, but it bears repeating here. Users crave content that is high-quality, useful, and relevant to them. Their questions are bringing them to your website, and your answers will determine whether they ultimately contact you.
Video content is especially valuable for search engine optimization at the moment, and there are powerful ways to leverage YouTube for the best results. If your brokerage doesn't have time to create content, you can use tools to automate content generation or work with specialized content agencies that can help you stand out online.
Constellation1 Websites
At Constellation1, our websites are a winning combination of beauty and brains. We build your very own brokerage website, agent websites, MLS portal, and more from the ground up using SEO best practices that drive traffic, boost leads, and send your sales soaring.
To learn even more about how a Constellation1 website could take your business to the next level, get in touch with us today.